Select Special Needs Type
Press enter to collapse or expand the menu.
Connect with Us
Shop Digital Catalogs
Request a Catalog
Sign Up for Email
View Our Blog
Tangle Therapy Tangle

These popular fidgets provide beneficial tactile sensory stimulation. The moving parts help develop finger strength, fine motor skills, and coordination.
Resources
Featured Resource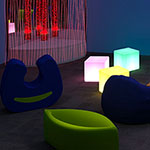 See how to build your own calming sensory spaces