Connect with Us
Shop Digital Catalogs
Request a Catalog
Sign Up for Email
View Our Blog
Find school furniture for every space and every student.
Classroom Select NeoClass Chair

Ergonomics meets versatility in this sleek polypropylene smooth back chair. This series creates an ideal learning environment for student collaboration and interaction in today's multi-zone classroom.

Classroom Select Activity Table, Rectangle

Create! Draw! Learn! These activity tables are perfect for collaborative interaction, encouraging student creativity and learning. Arrange them in various configurations for shared connectivity, flexibility, or as a single activity table station.

Classroom Select NeoRok Stool, Rubber Seat

Students can enjoy cushioned comfort, better posture, and freedom to move with this armless and backless stool by Classroom Select! The NeoRok stools are ergonomic, lightweight, and certified for use in schools, offices, or at home!

Classroom Select Glide Cap, Rubber

Your maintenance staff will not believe how easy it is to save your floors and reduce their workload with these glide caps for desks and chairs!

Classroom Select Harmony Fixed Height Desk

Easy-to-configure desks provide a collaborative and sturdy workspace for students in a space-saving design. Students are able to collaborate, brainstorm, and be creative with this fixed height desk from Classroom Select.

Classroom Select NeoShape Desk, Vortex

Shaped desks are ideal for individual or group activities and can be arranged in various configurations. Desks are perfect for collaborative interaction, encouraging students creativity and learning.

Classroom Select Kurve Rocker, 18 x 17 x 18 Inches

Like an egg chair, but active and for the floor! Equal parts relaxing and rejuvenating, this scoop chair offers a comfortable place to settle in while seated, while also allowing room to stretch the legs and gently rock back and forth.
Resources
Featured Resource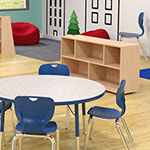 Check out our Photo Gallery for classroom inspiration!