Postage Stamp Designs
Lesson Plan, Grades K-8, Art-Time, Sharpie, School Smart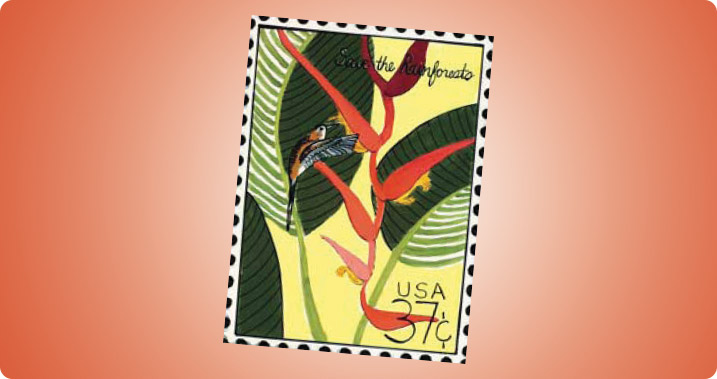 Description
Have you or your students ever noticed the miniature art world of postage stamp design? Create your own gallery of stamp designs that relate to a biome that you are studying in science or a period of history that you are studying in social studies. Stamps have been designed in a multitude of styles. Be realistic or be wild! (You can acquire a free booklet of stamp designs from the Mystic Stamp website www.mysticstamp.com.) Tempera paint can be used, as in the example shown, or other media may be chosen.
Objectives
Students will design a stamp that communicates ideas about the subject that they are studying.
Students will make choices of media and processes that will help communicate their ideas.
Supplies Needed
Art-Time® Washable Tempera Pint Assortment, 12 Colors
Economy Watercolor Paper Packs, 90-Lb., 50-Sheet Pkg., 18" x 24"
Styrofoam Paint, Printmaking, Collage Trays, Pkg. of 250
Sharpie Ultra Fine Tip Markers, 12-Color Set
School Smart Watercolor Brushes, 72-Piece Set
Scrap paper for preliminary sketches
Pencils
Water Containers
Stamp booklet (see www.mysticstamp.com)
Standards

Standard #1:
Students intentionally take advantage of the qualities and characteristics of art media, techniques, and processes to enhance communication for their ideas.

Standard #2:
Students employ organizational structures and analyze what makes them effective in the communication of their ideas.

Instructions
1
Discuss the subject you will be illustrating in your stamps. What are some of the visual images that would help tell the viewer what you are studying? Using the example, what parts of the rain forest would you like to represent that would be attractive to the viewer? How could you make a composition of these things that would be simple enough to be effective in a small format?
2
Have each student make sketches until they develop a composition they like.
3
Cut Watercolor Paper to 9" x 12" sheets.
4
Students should redraw their favorite sketch lightly on their watercolor paper.
5
Have students choose the largest area of one color. With the tempera, they should mix enough of a color to paint that area and paint it. Use thinned-out tempera. If it seems streaky, they should add a second thin coat.
6
Continue painting areas of the picture working from largest to smallest areas.
7
Details can be added with the Sharpies.